The app is called Avatar Maker: Hackers. The maker contains elements for creating an avatar of both famous hackers of the world, and for creating a character similar to himself or an abstract programmer. Some of the character pictures are very similar to real people and attract with their unique style. For example, you can create an avatar of characters: Kevin Mitnick, Tsutomu Shimomura, Richard Stallman, Linus Thornwalds, Kim Dotcom, Tim Burns-Lee, Stephen Wozniak, Aaron Schwartz, Julan Assange, Edward Snowden, Chris Carsperski.
Interesting experience, isn't it? We think many people will want to create their own avatar of a programmer-hacker. But, unfortunately, in the experience of creating such a category of applications, there is not only good news of announcements of new avatar makers. There is also, to put it mildly, an unpleasant experience, namely, 20 avatar maker apps were removed from the developer's account in September 2020.
Google's removal is motivated by violation of the Repetitive Content Policy. After filing numerous appeals (at a time when they were at least somehow considered), the restoration of applications did not take place. Google support responds with emails of the same content, painfully upsetting to all developers who have ever tried to prove their innocence.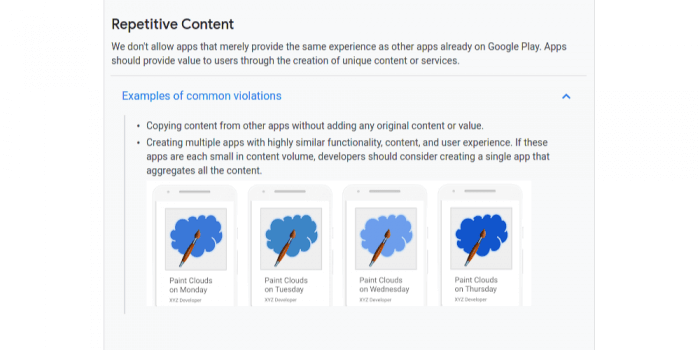 The developer's arguments that his applications do not violate the rules, since graphic resources, package name, application name, application descriptions, screenshots and banner, the end result of user experience in all applications is unique, were not considered and not considered until now.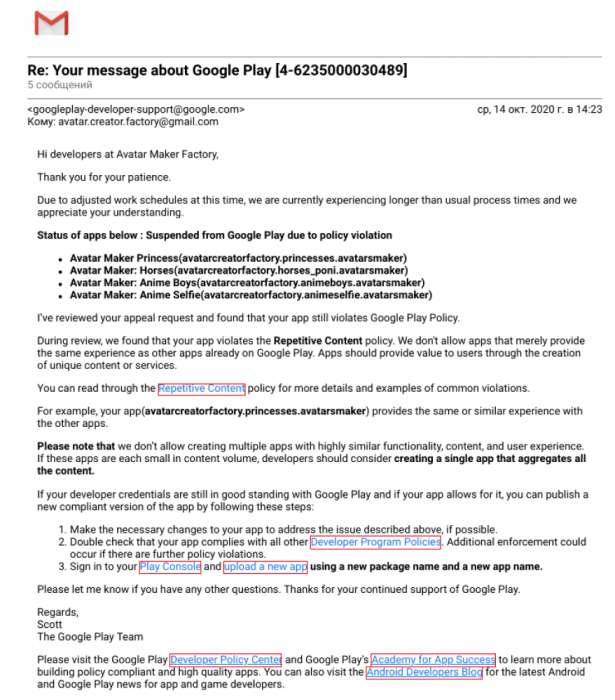 From the developer's point of view, the user experience mentioned in the letter is absolutely irrelevant. When creating an avatar of a horse, the user receives a picture of a horse at the exit, when creating an avatar of an anime girl taking a selfie, the user receives a picture of a girl, when creating an avatar of a princess, the user receives a picture of a princess, and when creating a boy, the user receives a picture of a boy. The avatar of a horse, a princess, a boy, and a girl taking a selfie have significant differences. Each application is unique and allows for a completely different user experience.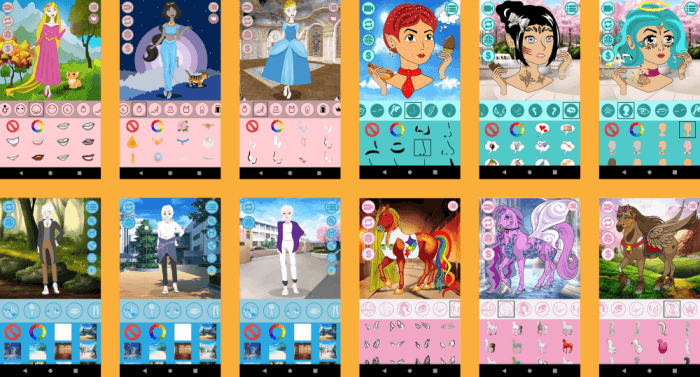 As a result, it is very sad that if you do not have a powerful administrative resource or large budgets, then you cannot make cool mobile products for users who, by the way, judging by the number of installations of similar applications of the developer, really liked remote avatar makers. According to incomprehensible and peremptory decisions of Google, you can forget about your projects, time and effort spent on their creation.
Developers, in search of the truth, wrote articles on Reddit and Medium with a personal appeal to Purnima Kochikar, Director of Google Play, Apps & Games at Google, but never managed to break through this shield of injustice. It is clear that this is another cry from the heart of another developer, but let the community once again see this tyranny on the part of mobile product publishers.
In October-November 2020, Google Play experienced massive deletions of apps from the market due to violation of the rules of duplicate content and duplicate user experience. It is believed that the Google robot has a failure in the verification algorithm, which is apparently hidden by the support of Google Play, since they have not restored most of the developers' applications. A very controversial point arises for the very products of Google, in particular, their messenger applications repeat most of the functionality in each other. This begs the question – is Google not breaking its Duplicate Content Policy? Here are examples of such applications that, in our opinion, may violate their own policy.
1. Google Chat и Hangouts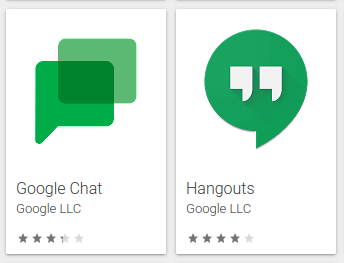 2. Gmail и Gmail Go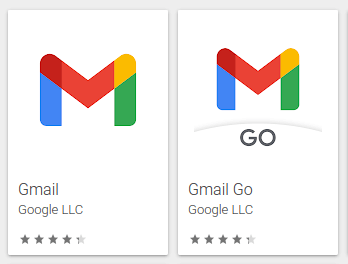 And here is an example of violations not only of the rules of repetitive content, but also violation of application distribution rules (you cannot create copies of applications for Alfa and Beta versions of the application, there are special tools for this).
1. Android System WebView, Android System WebView Beta and Android System WebView Dev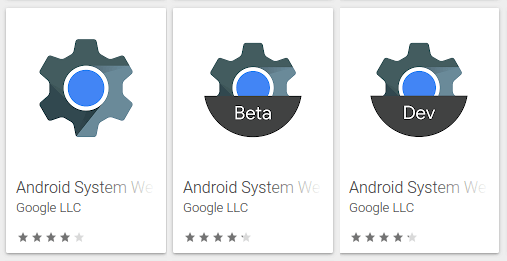 2. Google Chrome: Fast Browser, Chrome Beta and Chrome Dev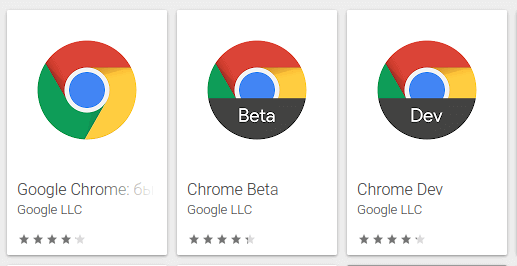 Hopefully the new Avatar Maker: Hackers will not suffer the same fate. We will support the developer with our installations of the new application. Link to the application here